cacaFly Malaysia was invited by BAIK Selangor Good Products Competition 2022 – 2023 as one of the instructors for the"Marketing Power" online workshop to help the competition's participants hone their competencies in marketing, a must-have skill set for entrepreneurship and brand management.
The "Marketing Power" online workshop is a 2-hour training held exclusively for the participants of BAIK Selangor Competition on 30th July. Conducted by Kar Mun, our Sales Manager and Damon, our Senior Performance Marketing Specialist, BAIK Selangor participants have undergone solid training on marketing by 2 experienced industry experts from cacaFly Malaysia!
The "Marketing Power" online workshop covered the following topics:
✔️ Digital Marketing Knowledge
✔️ TA Profiling
✔️ Fundamentals of Digital Advertising Operations
✔️ Brand Marketing Strategy
Various successful case studies were also included in this 2-hour workshop to give participants a more comprehensive understanding of marketing concepts, as well as inspire them to implement it in their brands.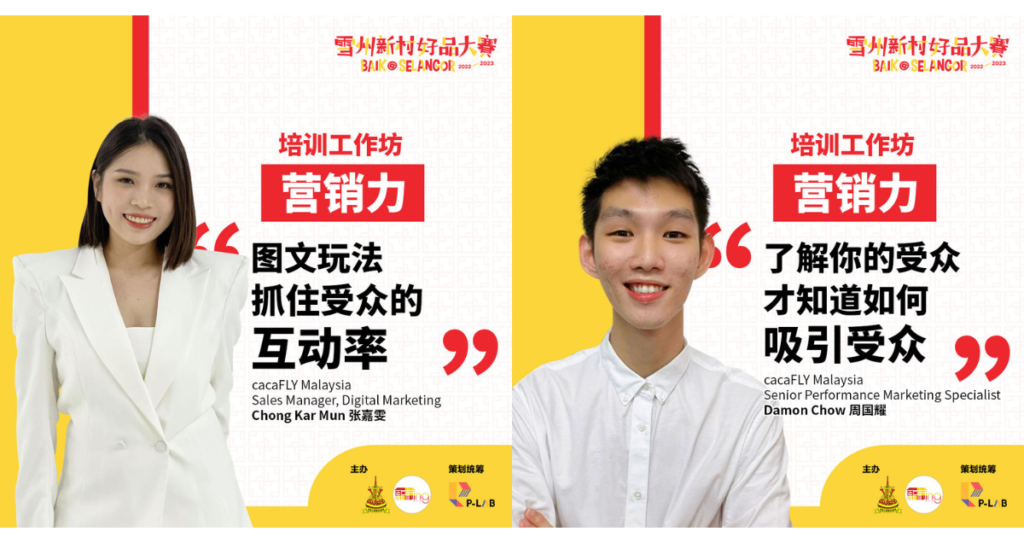 cacaFly Malaysia is a professional digital marketing company that offers the best digital marketing solutions and customized strategies to brands and clients. As always, cacaFly Malaysia aims to be the go-to digital marketing consultant of local brands and SMEs in Malaysia.
▶︎ Looking for Digital Marketing Training Workshops?
▶︎ Contact cacaFly NOW!
Email: [email protected]
Mobile: 017-7486433
---
cacaFly Malaysia 专业团队,始终⾛在数位⾏销最前端,怀抱着热情、诚正的服务精神,致⼒于作为客户最值得信赖的伙伴。专注于为品牌型与成效型客户提供⼀站式数位⾏销服务,从前期调研、中期⼴告投放、MarTech 应⽤与素材制作,到后期数据分析与策略优化,协助⽆数品牌、⽹店客户有效提升业绩,成功扩展 Online Business。若您需要数码营销布局、⼴告投放等⽅⾯的建议,现在就与我们的专业团队联系!您可 pm cacafly Malaysia Facebook 或电邮[email protected]。