TikTok is currently the most popular app, with over one billion users! So many people love using TikTok because interacting with others makes them feel a strong sense of connection and belonging, which is also a significant reason why TikTok has achieved great success worldwide. So, how can brands use TikTok's unique sense of community belonging to boost sales? Recently, TikTok released an article introducing how brand marketing can establish communities and create trend topics to attract audience interest. Let's take a look together!
The report first cites examples of how eBay has utilized the TikTok community:
eBay has cultivated a strong following with sneakerheads as the ultimate destination for buying and selling sneakers. As a result, they launched the "Sneaker Showdown" event to interact more closely with these followers. In this event, followers could vote for their favorite sports shoes from different styles.
Regarding advertising creativity, eBay deployed interactive Spark Ads during the annual NCAA basketball tournament. This form of advertising allowed users to participate and enhance their experience, making it easier to connect with the brand. With the right timing, exciting ideas, and effective advertising, eBay ultimately ignited the March TikTok trend among sneaker enthusiasts, creating impressive campaign results.
If you want to make good use of the community to create trends but don't know where to start, here's how you can begin:
First, brands should find the target audience, product features, content ideas and the most suitable community based on the brand style. Brands can also dive into the popular topics and trends of different communities by mastering the analysis data of the TikTok platform. Finally, if you also want to create your community on TikTok but don't know how to start, this report provides three steps:
Step 1: Find the right community through"Stay and Play"
TikTok's users have diverse interests, ranging from gaming and parenting videos to food sharing, and videos on various themes attract different audiences. Therefore, it is recommended that brands can try more exciting pieces to attract new viewers. If you, as a marketer, lack inspiration for creating content, you can search for related hashtags that customers are interested in, such as "cosmetics," "makeup tutorials," and "Korean-style makeup," to view other creators' videos and spark ideas for their videos.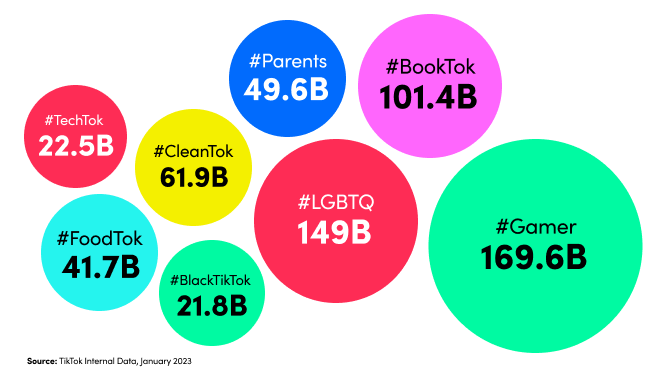 In addition to relevant hashtags, TikTok offers the "Top Products" data insight tool, allowing everyone to view the most popular and highest-converting products in TikTok ads. Enter the TikTok Creative Center to find this handy tool. Learning from how other creators recommend and use products in their ads can also be a source of inspiration for marketing.
In addition to utilizing the insights tools provided by TikTok, mastering the trending products on the platform is also crucial. The official "Stay and Play" analysis method is a simple and valuable way for online store owners to understand which communities are suitable for participation. Next, let me briefly introduce the critical analysis points of the Stay and Play" framework:
The chart has two main axes: "Expected – Unexpected" and "Micro – Macro."
Vertical axis – Expected – Unexpected
"Expected" refers to maintaining a consistent style for the online store, providing video topics that the audience expects but still catering to their interests; "Unexpected" refers to creating video content that surprises existing fans with unconventional and unique creative ideas.
Horizontal axis – Micro – Macro
"Macro" refers to video topics many people love watching on TikTok, such as mainstream ideas or popular follow-up videos. Conversely, "Micro" refers to video topics that are less common on the TikTok platform, such as subcultures or more unique videos.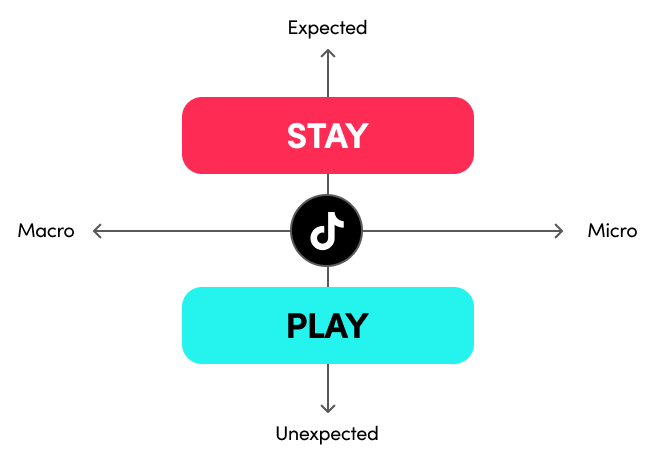 Firstly, based on the "Expected – Unexpected" axis, we can analyze two main creative strategies for Stay and Play:
Stay Strategy: Focused on Expected, establishing familiarity, trust, and a sense of belonging.
Suitable for growing your existing audience, exceptionally brand loyal fans.
Deepen engagement with your audience by creating content they love (for example, if you're a tech brand, stay in the TechTok community and create popular videos).
Stable creative strategy that applies to themes focused on categories, industries, and interests.
Play Strategy: Focused on the Unexpected, exploring new communities, and building cultural resonance.
Suitable for developing new audiences.
Try creating fresh and exciting content in innovative communities (for example, if you're a health supplement brand, stay in the FoodTok community).
An adventurous and exploratory creative strategy that applies to themes focused on culture, values, and innovation.
Furthermore, brands can explore both Macro and Micro-communities within Stay and Play strategies to better understand various communities related to their brand, balancing short-term and long-term development and continuously improving brand trust and performance.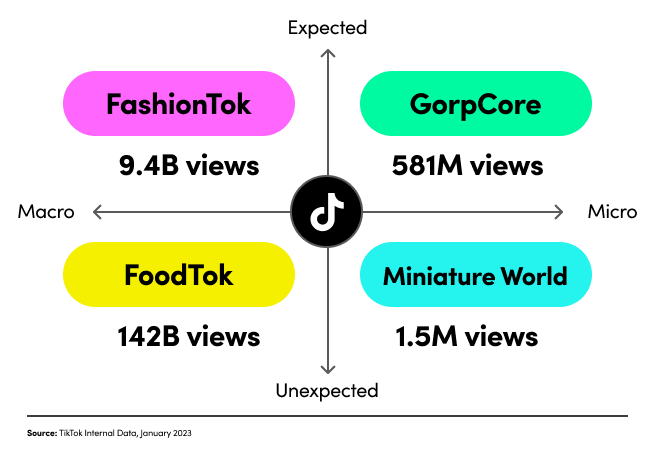 Use luxury brands as an example; the above image is integrated into the "Stay and Play" framework to see how online stores can build TikTok community volume.
Stay
Stay is a strategy where online stores target their core audience and create consistent styles and themes. According to the second central axis, "Micro-Macro," online stores can decide how to use video hashtags based on different audience sizes:
Top left: Stable style + large audience – FashionTok
For luxury brands, keeping up with fashion trends is crucial. Therefore, FashionTok is a Macro community that luxury brands expect to enter, with popular content such as the recent GorpCore fashion trend that TikTok users love.
Top right: Stable style + small audience – Gorpcore
GorpCore is a unique theme because its fashion style is a niche, derived from Normcore, and is a stable, niche theme for luxury brands.
Play
"Play" is a strategy where brands attempt fresh themes to reach new customer groups. Similarly, based on the second central axis, "Micro-Macro," online stores can use video hashtags to get different communities based on their directions:
Bottom left: Fresh and exciting + large audience – FoodTok
Although FoodTok is beyond the luxury sector, there are many intersections between foodies and fashionistas. Therefore, for brands looking to reach new audiences, FoodTok provides an opportunity to interact with potential customers in this mainstream community.
Bottom right: Fresh and exciting + small audience – Miniature world
Miniature World is a very niche cultural community that refers to the use of tiny dolls to create a miniature world. Although it's a niche topic for luxury brands, it's also fresh and exciting, offering the high potential to expand their audience and create brand Play.
Stay and Play strategies can help brands choose suitable hashtags to reach their exclusive communities based on audience size. Furthermore, using diverse video content to attract different audiences can create a sense of belonging and spark community discussions.
Step 2: Developing Content Strategy – Value and Diversity
After finding a suitable community, the next step is to develop a content strategy! When creating this strategy, you can consider how to provide valuable content and increase video diversity.
To create a "valuable" video, it is essential to have entertaining elements and provide educational and social connectivity content for the audience. For example, a mukbang anchor shows herself eating in the video and casually and humorously introduces ingredients and cooking techniques. By doing so, the video provides entertainment for the audience and has educational value because cooking skills are shared.
In addition, the "diversity" of TikTok videos is also significant. For example, when introducing products, beauty bloggers will suggest how different audiences can choose and use the products. For example, they may recommend cherry red for girls with certain skin types, milk tea color for a single application without makeup, and thicker application for important occasions. This allows the audience to understand product information better and make planned purchases.
Step 3: Start creating
The final step is to start creating! It's recommended to begin with popular content types, such as photo mode or street interviews when creating content for your online store. Different communities also have other preferences for content formats; for example, the Korean wave community prefers fan edits, while Beautytok is more suitable for "get ready with me" (GRWM) vlogs.
Brands and online stores can also increase engagement and exposure by responding to comments, collaborating with other creators, or participating in community events. For example, suppose you are new to creating TikTok videos for your online store and must learn how to edit videos. In that case, you can use the officially recommended editing software CapCut or utilize templates in Kinemaster to make content creation more accessible and enjoyable.
In conclusion, TikTok is currently the most popular mainstream app, and its community offers many opportunities for brands to connect with customers and promote sales. By understanding different communities and marketing strategies, you can establish close relationships with your target audience and bring more exposure to your creative videos. To learn more, you can click here to read the full article about TikTok.
Do you need a professional team to create TikTok videos for you?
Do you want to collaborate with TikTok influencers or advertise on TikTok?
Contact us today, let cacaFly help you!
Email: [email protected]
Mobile: 017-7486433
---
cacaFly Malaysia is always at the forefront of digital marketing and committed to being the most reliable partner of our clients, priding ourselves in offering premium services with utmost enthusiasm and professionalism. Specializing in serving brand and performance oriented clients, our one-stop digital marketing services ranges from early research, mid-term advertising, MarTech application and creative production to data analysis and strategy optimization, cacaFly Malaysia has assisted countless brands and online merchant improve their performance and expand their businesses. If you need help with digital marketing strategy, ad placements etc., contact us now! PM us on cacaFly Malaysia Facebook or email us at [email protected]