TikTok, as a globally popular social media platform, is gaining traction in numerous countries, with shopping becoming prevalent within the TikTok app. In a recent TikTok report, it was highlighted that TikTok is further enhancing the shopping experience within the TikTok app, aiming to greatly improve user satisfaction. This includes integrating TikTok ads into app search results, making it easier for users to find desired products while shopping within the app. This article takes you deeper into the details. Let's dive in together:
Update 1: TikTok Drives In-App Shopping
Since its initial launch in 2021, TikTok Shop has been primarily focused on direct integration with Shopify, allowing Shopify merchants to showcase their products on the TikTok platform.
However, in recent times, TikTok has announced a groundbreaking shift, encouraging brand parties to shift their focus towards shopping within the TikTok App, gradually moving away from traditional third-party hosted websites. This significant transition has also brought the news of TikTok discontinuing the "Storefront" feature. This feature primarily enabled brands to seamlessly integrate third-party shopping processes into the TikTok interface, facilitating a smoother in-app shopping experience.
Differences between Western and Asian Markets:
Furthermore, the report also highlights significant differences between Western and Asian markets. For instance, in China, in-app shopping has become a primary source of revenue for apps; however, in Western markets, user habits and interests regarding in-app shopping differ from those in Asian markets.
The report also underscores the disparities in the live shopping sector. According to reports from DataReportal, Think With Google, Deloitte, Statista, PipeCandy, Parcel Monitor, and others, in 2023, the proportion of online shopping consumers in Malaysia stands at 61.3%, a figure that has slightly decreased compared to the pandemic period but still constitutes half of Malaysia's users. Additionally, although the average price of goods purchased via e-commerce is relatively low in Malaysia, the total amount spent is among the highest in several Southeast Asian countries due to the higher quantity of purchases. 
Online shopping remains the primary choice for Malaysian consumers. Considering this trend, we strongly recommend Malaysian retailers seize the opportunity and actively engage in TikTok's commercial activities, aiming to gain a larger market share and foster business growth.
Update 2: TikTok Introduces"Search Ads Toggle" Feature
TikTok's second update — the "Search Ads Toggle" feature — enhances the user experience when shopping. Enabling this feature will tightly associate users' search queries with relevant products, allowing users to swiftly locate items of interest.
This marks TikTok's first developed advertising deployment strategy. It's important to note that the Search Ads Toggle is not a standalone advertising product but rather an extension of TikTok's video ads. It facilitates brand parties in more effectively targeting relevant search users.
Merchants can access the new toggle switch within the "Placement" section during the ad setup process, where they can enable search results display.
TikTok indicates that the new option provides brands with a simple way to broaden their campaign reach to "high-intent users seeking information relevant to their business, enhancing engagement, and tapping into revenue potential." TikTok also highlights that advertisers will be able to activate the "Search Ads Toggle" during the initial ad campaign setup or even midway through an ongoing campaign. For campaigns that are already running, activating the "Search Ads Toggle" won't reset the learning phase of the campaign, so merchants can proceed without concerns!
【Beneficial for Brands】 TikTok's New Feature Makes it Easy for Merchants to Understand Consumer Shopping Preferences and Boost Conversion Rates
Following the updates mentioned above, cacaFly exclusively provides a SWOT analysis for both brand parties and consumers. This enables brand parties and consumers to comprehensively understand the pros and cons, opportunities, and threats of the new feature. Let's delve into it together!
Strengths: Brand Influence, Product Diversity Presentation, Partnership Opportunities
Brand parties possess clear advantages amidst the transition of TikTok's in-app shopping mode. Firstly, TikTok as a brand carries its renown and influence, which will greatly attract TikTok's massive user base. The brand's influence not only captures attention but also enhances brand exposure.
Secondly, brand parties can leverage the strengths of TikTok's short-form videos to creatively showcase a variety of products using trendy and innovative editing techniques, thereby presenting product diversity and enticing consumers to make purchases.
Most importantly, collaboration with TikTok brings about diverse partnership opportunities across various fields for brand parties. This not only enriches the brand's collaborative network but also aids in expanding market share.
Opportunities: Enhanced Shopping Experience, Innovative Collaboration Models
Through collaboration with TikTok, brand parties will have the opportunity to exert a greater influence within the new in-app shopping model. They can gain insights into user shopping preferences, enabling them to offer more targeted products and services, thus boosting conversion rates. This also implies that brands can establish a more intimate relationship with users on TikTok's platform, fostering brand loyalty.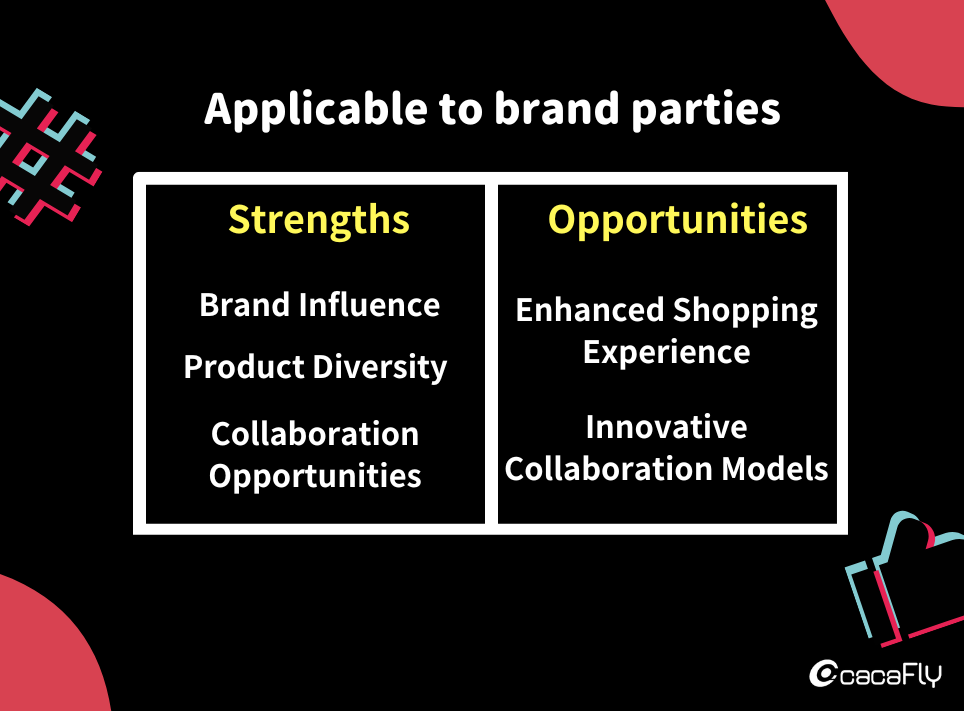 【Beneficial for Consumers】 TikTok's New Feature Makes Shopping Easier for Consumers! Also Enables Direct Interaction with Merchants
Let's now take a look at the advantages and opportunities for consumers:
Advantages: Convenient Shopping Experience, Direct Purchase Choices
The in-app shopping mode on the TikTok App offers a convenient shopping experience, allowing users to shop within the same platform. Additionally, TikTok is continuously enhancing the shopping experience, making it more convenient for consumers to purchase their favorite products. TikTok is phasing out the "Storefront" feature, bringing the shopping experience within the app, and eliminating the need to navigate to external websites. This direct shopping approach saves consumers more time.
Opportunities: Diverse Choices, Instant Interaction
In-app shopping on TikTok provides users with a multitude of choices, catering to various shopping needs. Users can explore different brands and products on the TikTok platform, catering to their diverse consumption preferences.
Beyond diverse choices, the ability for users to instantly interact with merchants is also crucial for many consumers. Utilizing live shopping and similar methods, users can engage with brands or sellers in real time, ask questions, or obtain more information. This offers users more opportunities to understand products, aiding them in making more informed purchase decisions.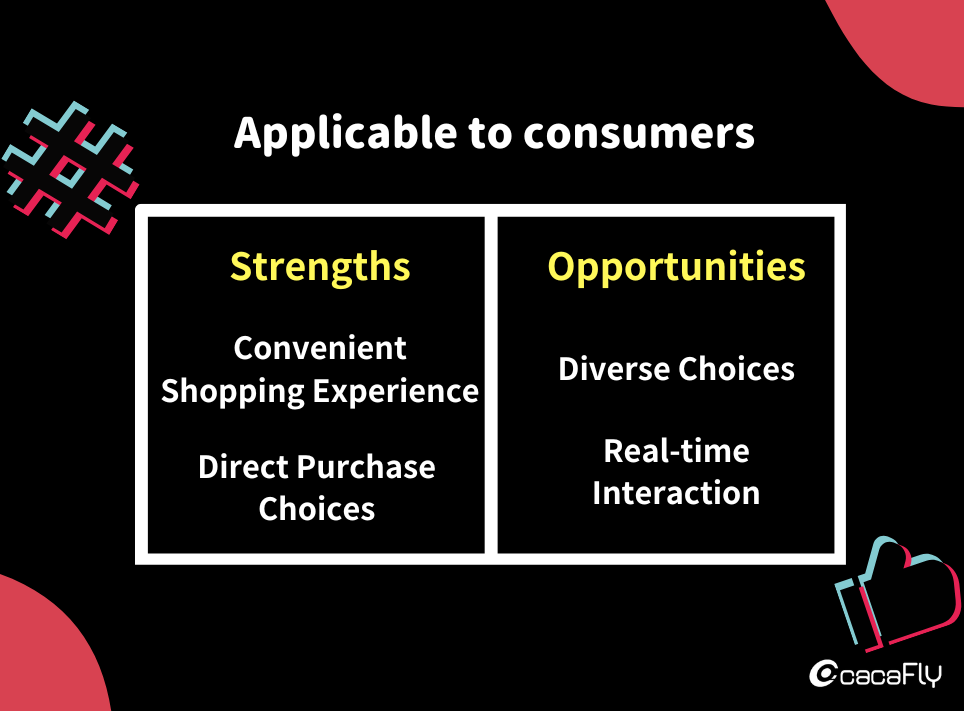 After reading this article, both brand parties and consumers have likely gained a more comprehensive understanding of TikTok's newly introduced features. The section for brand parties not only highlights the ability to leverage brand influence to attract users on TikTok but also emphasizes the potential for a greater market share and brand loyalty through diverse product offerings and enriched partnership opportunities. For consumers, the focus is on providing a convenient and diverse shopping environment. To learn more, you can click here and here to read related reports.
Need a professional team to create TikTok videos for you?
Looking for TikTok celebrities to work with and place TikTok ads?
cacaFly Malaysia is here to help!
Contact us now through the following channels:
PM: cacafly Malaysia Facebook
Email: [email protected]
Mobile: 017-7486433
---
cacaFly Malaysia is always at the forefront of digital marketing and committed to being the most reliable partner of our clients, priding ourselves in offering premium services with utmost enthusiasm and professionalism. Specializing in serving brand and performance oriented clients, our one-stop digital marketing services ranges from early research, mid-term advertising, MarTech application and creative production to data analysis and strategy optimization, cacaFly Malaysia has assisted countless brands and online merchant improve their performance and expand their businesses. If you need help with digital marketing strategy, ad placements etc., contact us now! PM us on cacaFly Malaysia Facebook or email us at [email protected]