TikTok has officially announced the launch of the Global App Bundle. The Global App Bundle provides brand owners with fresh advertising placements and extensive exposure opportunities. This enables advertisers to find innovative ways to promote their products and services across different platforms and apps. The Global App Bundle offers them a path to break traditional boundaries, expanding the reach of their advertisements to a wider audience. Join cacaFly today to learn more!
What is the Global App Bundle?
The Global App Bundle allows advertisers to place their advertisements on popular apps in the current Southeast Asian market, such as CapCut and Fizzo. It enables advertisers to reach a broader audience beyond TikTok while ensuring that their ads are presented on high-quality apps and ad placements.
You can choose the primary advertising display placements through the TikTok Business Help Center.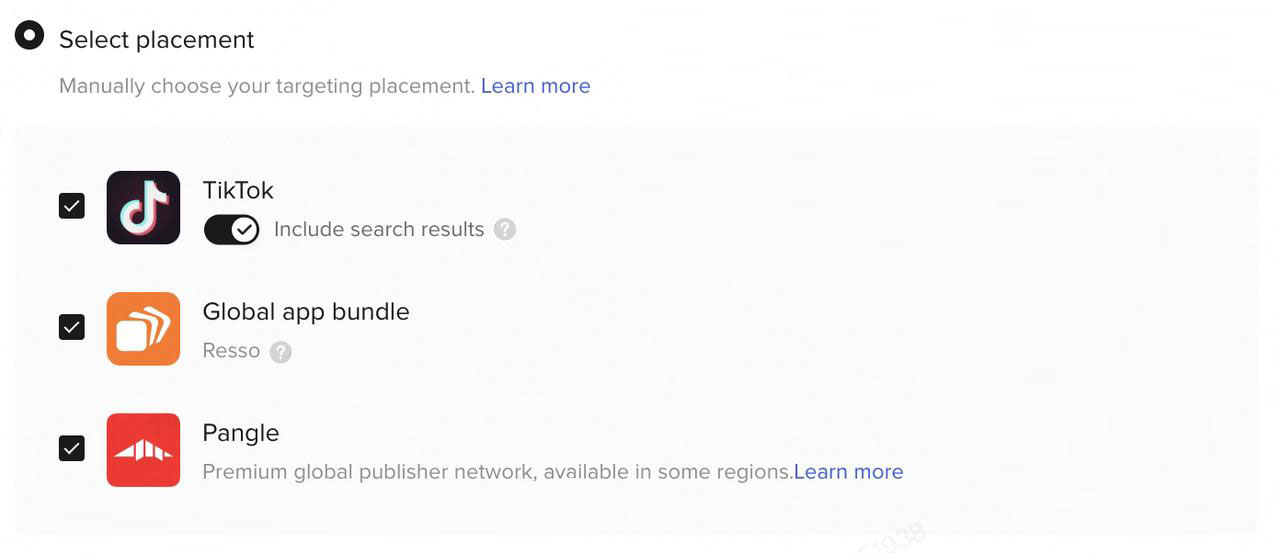 Apps currently available in the Global App Bundle:
CapCut
CapCut is a free video editing software beloved by creators worldwide. In addition to its powerful editing capabilities, CapCut provides video templates, making video editing and exporting to TikTok and other social media platforms incredibly simple. Furthermore, for advertisers, CapCut is an excellent place to reach a large and influential young audience beyond TikTok.
In the Southeast Asian region, many countries exhibit similar social media usage trends. Young people and content creators share multimedia content on platforms such as TikTok, Instagram, and Facebook. CapCut's user-friendly interface and video editing features make it their primary choice for producing high-quality content.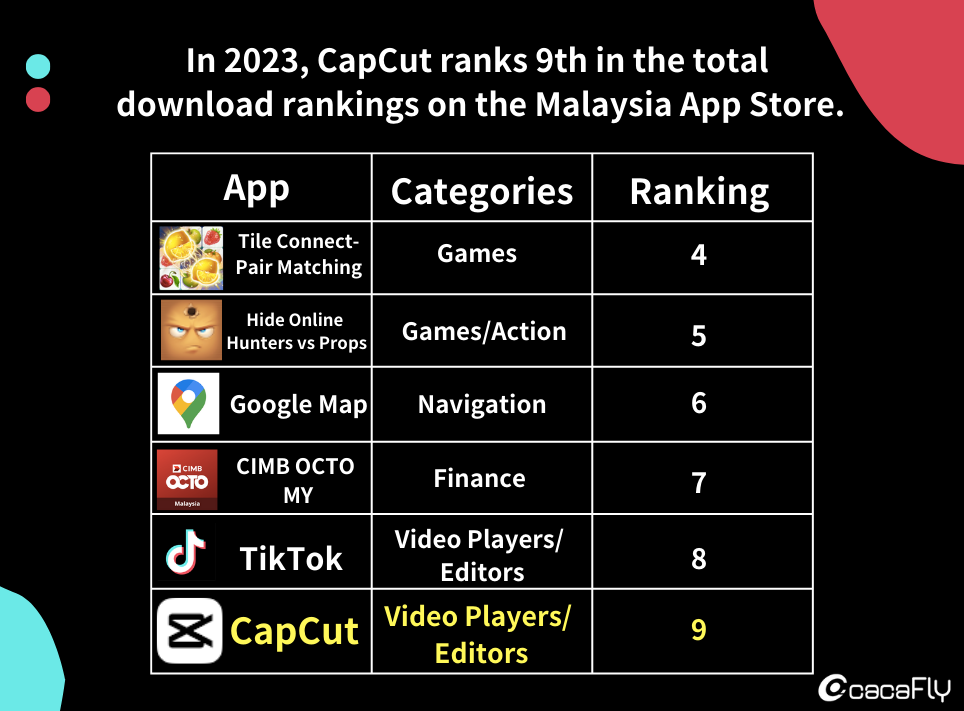 Source : Similar Web
According to data from Sensor Tower, in the first quarter of this year, CapCut secured the top spot on the app download charts in the Southeast Asian region, with a total of over 46.95 million downloads. Additionally, according to statistics from data.ai Analytics, CapCut currently maintains a consistent presence in the top three positions in the video editing app category rankings in Southeast Asian countries, primarily on the App Store. Notably, in Indonesia and Malaysia, CapCut has even claimed the top position in the video editing app charts.
Fizzo
Another app in the Global App Bundle is Fizzo. Fizzo is a highly popular mobile reading app launched in Indonesia. The app offers a wide variety of immersive novels and stories. In Indonesia, Fizzo is the most downloaded reading app on the Apple App Store. Fizzo can help advertisers reach a female audience who are household decision-makers and the younger demographic.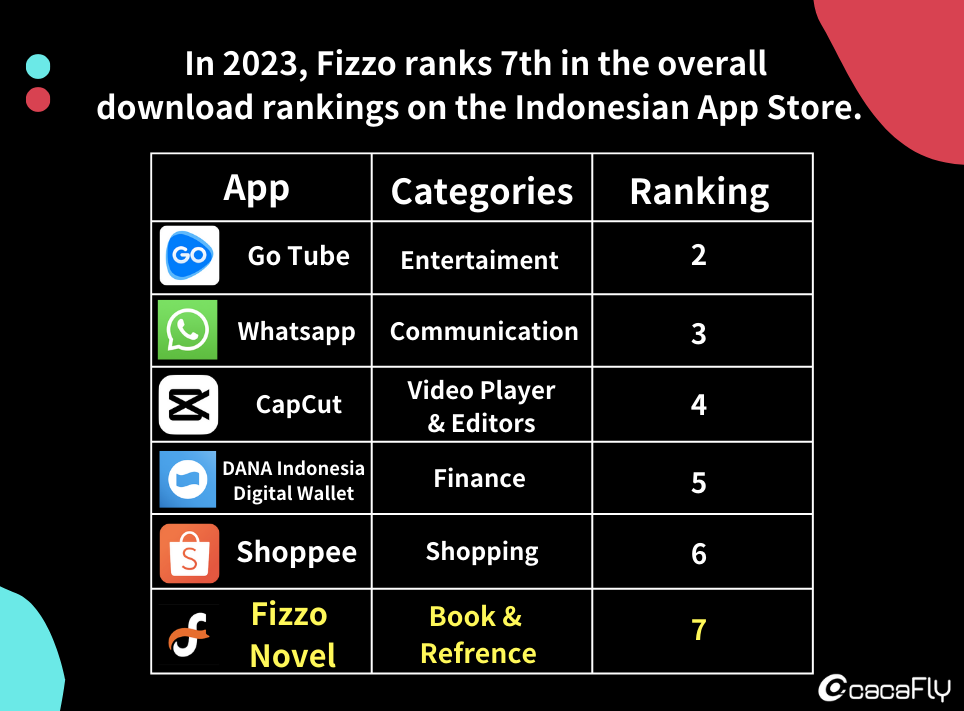 What are the advantages of the Global App Bundle?
For advertisers already running ad campaigns on TikTok Ads Manager, the Global App Bundle can provide additional benefits, such as:
The ability to reach more potential customers through a range of apps.
Seamless integration with many targeting, bidding, and optimization features of TikTok Ads Manager, making integration with existing ad groups and campaigns easier.
The potential to achieve higher conversion rates and deliver better overall marketing campaign results through the Global App Bundle.
What advertising formats are supported?
Capcut & Fizzo
App Open Ad
The App Open Ad appears immediately after the user opens the app and automatically disappears after a certain period, allowing users to access the main interface of the application. Splashscreen ads are commonly used in mobile applications, providing advertisers with excellent exposure opportunities and attracting users to interact with the ad content.
In-Feed Ads
The advantage of In-Feed Ads lies in their less obtrusive nature. Because they seamlessly blend with the platform's content style and format, users are more likely to continue viewing because they do not disrupt the user's browsing experience. Compared to traditional advertising formats, In-Feed Ads are more contextually relevant and can better integrate into the user's browsing experience.
2-Column Feed Ad
The 2-column Feed Ad aims to provide more advertising content while maintaining consistency with the platform, creating additional exposure and user interaction opportunities for advertisers. This advertising format typically requires a balance to ensure that it doesn't overly disrupt the user's browsing experience and complies with relevant advertising guidelines to prevent misleading users in terms of content and appearance.
Banner Ads
Banner Ads are a common digital advertising format found on websites and platforms such as apps. They straightforwardly convey advertising messages, aiming to attract user interactions.
Native Ad
Unlike traditional banners or pop-up ads, Native Ads have a design style, appearance, and format that resemble the surrounding content, creating a more integrated experience. The purpose of native advertising is to make it less obvious to users that they are looking at an ad, reducing the likelihood of users being put off when they realize it's an advertisement. Additionally, native ads can be found on various media platforms, including social media, news websites, mobile applications, and more.
The Global App Bundle is a strategic approach that allows advertisers to extend their ad placements to popular apps in Southeast Asia, thereby innovatively connecting with a broader potential consumer base. Under this new advertising delivery method, advertisers can break free from the limitations of platforms like TikTok and reach a more influential target audience. You can click here to read more.
Need a professional team to create TikTok videos for you?
Looking for TikTok celebrities to work with and place TikTok ads?
cacaFly Malaysia is here to help!
Contact us now through the following channels:
PM: cacafly Malaysia Facebook
Email: [email protected]
Mobile: 017-7486433
---
cacaFly Malaysia is always at the forefront of digital marketing and committed to being the most reliable partner of our clients, priding ourselves in offering premium services with utmost enthusiasm and professionalism. Specializing in serving brand and performance oriented clients, our one-stop digital marketing services ranges from early research, mid-term advertising, MarTech application and creative production to data analysis and strategy optimization, cacaFly Malaysia has assisted countless brands and online merchant improve their performance and expand their businesses. If you need help with digital marketing strategy, ad placements etc., contact us now! PM us on cacaFly Malaysia Facebook or email us at [email protected]