X is about to launch recruitment features within the app? X platform uses user data to train AI, what are the pros and cons? X platform recently updated its privacy policy and announced the upcoming recruitment feature. In this article, we will delve into X's new feature, exploring its impact on users and businesses. Join cacaFly now to find out more!
X's recruitment listing feature has received widespread acclaim just two months after its launch!
X has announced the upcoming feature that allows users to find jobs within the app! The recruitment listing feature is undoubtedly a major highlight. It enables users to list vacant positions on their profiles, making the recruitment process more direct. This feature has received overwhelmingly positive feedback within just two months of its trial period. It's reported that hundreds of companies have successfully posted their job listings on X.
Furthermore, this feature allows companies with the golden checkmark to add a "Recruitment Positions" showcase on their X profiles. This showcase appears above their main timeline, below the profile bio, and follower/fan count. Not only does this make it easier for companies to showcase their hiring needs, but it also provides job seekers with a more convenient and direct way to browse these positions.
Users can simply click the "View All Positions" button to browse all current job vacancies at a company, and they can learn more details and apply by clicking on specific positions. It's worth mentioning that X has been experimenting with job listings over the past few months, and recently, it has been included in the featured list of verified organizations.
Moreover, if companies want to add job vacancies to their profiles, they must first subscribe to X's premium business plan – Verification for Organizations, and apply to join X Hiring Beta to add the vacancy listing to their company profile.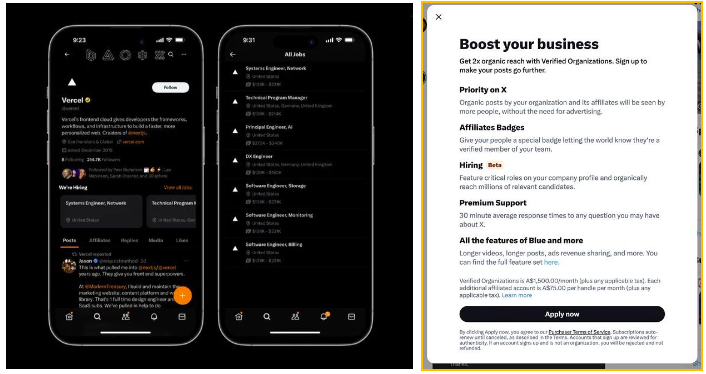 X Recruitment also includes these features
In addition to X's new job listing feature, there are plans to introduce a series of new features within the app to enhance the user experience and expand job-related functionalities.
Firstly, X aims to automatically pop up job recommendation lists in private messages, posts, and Communities. This means that whenever a user shares a job advertisement link from X, the app will automatically recommend related job listings to users within relevant posts and Communities. What's special about this feature is its ability to promote job listings more widely, especially with the option to share job postings in private messages and specific Communities, which can be quite attention-grabbing.
Moreover, private messaging is becoming increasingly popular as people prefer to interact privately rather than in public posts. Simultaneously, sharing job listings within dedicated Communities can attract users who are specifically interested in those positions. This can also encourage more people to use X's job tools, increasing its visibility.
Furthermore, what's noteworthy for marketers is that X plans to collect users' personal information, such as work experience, employment preferences, skills, and abilities, to recommend more suitable job opportunities. Besides benefiting users, employers can also utilize this feature to find suitable candidates more easily and display more job-related advertisements for users who are actively job hunting to see.
Why is Musk pushing for this feature?
Some might wonder why Elon Musk wants to introduce a recruitment feature on a social platform. It's because Musk has a bold plan in mind. He intends to start with X's app, initially focusing on payment and banking services. Once people start relying on X to earn money, he plans to use that as a foundation to expand into other new areas, such as job searching, social networking, and even various types of transactions – essentially making X a comprehensive app that caters to a wide range of people's needs.
Furthermore, Musk recently announced his intention to launch a platform that can compete with LinkedIn. He didn't mince words when he mentioned that LinkedIn is somewhat "awkward," while X's version will be "cool." This signifies his intent to introduce a more appealing and user-friendly professional social platform, potentially putting pressure on LinkedIn in terms of competition.
What are the benefits and drawbacks of Musk using user data to train AI?
In addition to launching the recruitment feature, the X platform recently updated its privacy policy. X platform states, "We may use the information we collect and publicly available information to help train our machine learning or artificial intelligence models." This also means that when users post content on the X platform, their personal information could potentially be used by Musk for AI training. Besides using user data for training AI models, the updated privacy policy also mentions the collection of biometric data, work, and education information from mobile users, starting from September 29th.
However, Musk has also acknowledged that using user data to train AI can indeed make it easier for users to find their ideal jobs, but it raises concerns about the privacy of user data.
In summary, X is continuously evolving, striving to become a comprehensive app that caters to a variety of user needs. With the ongoing introduction of these new features, X is poised to continue playing a significant role in the realms of career development and social networking, offering users a better experience and more opportunities. To read more, you can click here and here for the full article.
Contact us and let the professional consultancy team
at cacaFly work with you to create a remarkable new presence!
Email: [email protected]
Mobile: 017-7486433
---
cacaFly Malaysia is always at the forefront of digital marketing and committed to being the most reliable partner of our clients, priding ourselves in offering premium services with utmost enthusiasm and professionalism. Specializing in serving brand and performance oriented clients, our one-stop digital marketing services ranges from early research, mid-term advertising, MarTech application and creative production to data analysis and strategy optimization, cacaFly Malaysia has assisted countless brands and online merchant improve their performance and expand their businesses. If you need help with digital marketing strategy, ad placements etc., contact us now! PM us on cacaFly Malaysia Facebook or email us at [email protected]