Meta recently launched its shopping season marketing guide for the second half of 2023, emphasizing that across Meta's various technologies, advertisers have started using AI technology to achieve impressive results in specific promotional holidays. Looking back at the peak of the 2022 shopping season, advertisers saw a 20% increase in conversion rates compared to the fourth quarter, and a 23% increase in ad impressions compared to the fourth quarter. Using AI technology to assist with advertising during the shopping season can yield remarkable results. Therefore, today's article will help marketers gain a deeper understanding of how to leverage advertising to gain a competitive edge for businesses during the upcoming Double 11 shopping season. Let's dive in!
Automated Systems Offering Various Advertising Solutions
Automated systems are highly suitable for businesses or advertisers with limited budgets. These systems help businesses keep up with changes in promotional activities with minimal budgets, resources, and time. Advertisers only need to activate automated tools and provide relevant input values, and the automated system will deliver the best holiday marketing results based on the data provided by businesses. Key decision elements include budget, ad creative, ad audience, ad placement, and objectives.
Here are some optimal solutions:
Efficient Speed + Single-Step Solution
Advertisers can choose to automate the entire setup or select specific parts of their marketing campaign. In the report, Meta will provide a subset of the most effective solutions within the Efficient Speed suite.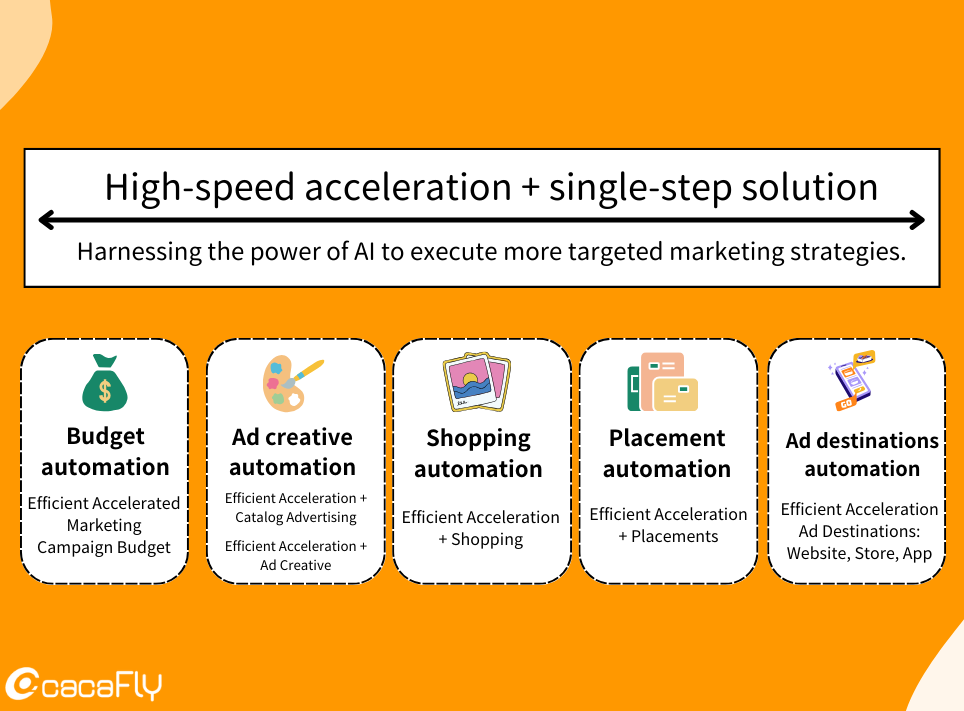 Plan One : Efficient Speed + Shopping Marketing Activities = Effortless Shopping for Double 11, Boosting Sales for Marketers!
Based on the latest report from Meta, we've put together a series of Double 11 shopping marketing strategies, combining Efficient Speed and shopping activities. The main goal is to help businesses improve their sales performance during the upcoming Double 11 shopping season, whether it's attracting new customers or satisfying existing ones.
Recommendations: Utilize diverse advertising creativity and highly effective ad audiences to achieve outstanding results during Double 11.
a. Infinite Creative Advertising Content
We recommend that businesses create at least 10 different advertising creative variations to provide a sufficient sample size for AI systems to calculate the best ad combinations. Additionally, consider using various content formats such as videos and images to make your ads stand out among the many during Double 11.
b. Diverse Advertising Creativity
During the Double 11 shopping season, crafting attention-grabbing ad content is crucial. Whether it's creating compelling shopping scenarios, showcasing exclusive products, or using engaging storylines to spark consumers' shopping enthusiasm, all of these approaches can help attract a wide range of audiences.
c. Precise Targeting of Ad Audiences
Leverage precise ad targeting to ensure your ads appear in the view of potential Double 11 shoppers. Dive deeper into understanding your audience's shopping interests and preferences to deliver ads more accurately.
Plan Two: Efficient Speed + Catalog Advertising = Matching Products with Users
Efficient Speed + Catalog Advertising tailors personalized ads to new or existing consumers based on their behavior, interests, and preferences to boost sales performance. Catalog advertising primarily displays catalogs or lists of products or services to users. It presents multiple ads in list or carousel formats, allowing users to browse content that interests them.
We also recommend that businesses establish Double 11-specific catalog advertising during the Double 11 shopping festival to increase product visibility.
Source : Meta
Fresh customers, special considerations:
a. Guiding the Discovery of New Products:
Want to attract new potential customers? Catalog ads can help businesses discover those new products that may have been hiding in the corners, giving them more opportunities for selection.
b. Providing Information:
Advertising isn't just about selling; it's also about informing. Catalog ads typically include detailed product information and prices, making it easy for new customers to understand the product highlights and make purchase decisions.
c. Increasing Brand Awareness:
If the brand's goal is to expand brand awareness, the presentation style of catalog ads makes it easier for new potential customers to remember and recognize the brand.
Returning customers, not leaving empty-handed:
a. Personalized Recommendations:
For loyal customers who have interacted with the brand before, catalog ads can provide personalized product recommendations based on their purchase history and interests, laying the groundwork for repeat purchases.
b. Promoting Repurchases:
By showcasing products similar to what previous customers have purchased in ads, catalog ads can awaken their shopping desires and encourage them to return.
c. Offering Promotional Information:
Catalog ads can also be used to promote special offers, discounts, and incentives to returning customers, enhancing their shopping experience.
Plan Three: High-Efficiency + Placements = Make Your Double 11 Ads Closer to Consumers
As Double 11 approaches, in addition to the above plans, you can also utilize Plan Three, which is the High-Efficiency + Placements solution, to advertise your Double 11 promotions across multiple placements. This includes platforms like Instagram Story, Instagram Feed, Messenger, and Audience Network.
For instance, Instagram Story is suitable for sharing more casual behind-the-scenes content, time-limited Double 11 discount details, and user feedback. On the other hand, Instagram Feed is ideal for posting product images or information about upcoming products, which is more formal. As for Messenger, it can be used to leverage Messenger's chatbot functionality, creating interactive ads with users. This can involve automated Q&A, product recommendations, or providing customer support through chatbots.
The presentation style of placement ads can vary based on the advertiser's needs and the requirements of the advertising platform. These ads are typically presented in various formats, such as images, text, links, videos, or other multimedia forms, to capture users' attention and prompt them to take action, such as clicking on ad links or learning more information.
Recommendation: Provide a variety of formats and sizes for your Double 11 ad materials to enhance the creative effectiveness of each placement.
Aligning with Double 11 Marketing Campaign, Present Diverse Creative Ads
Meta-research indicates that there are at least 11 factors influencing consumers' shopping decisions during festive periods. These factors include price (87%), product quality (87%), product authenticity (82%), and familiarity with the store or website (73%). Retailers can combine various creative ads with their Double 11 marketing campaigns and leverage AI technology to deliver suitable ads to relevant consumers.
Furthermore, since consumers have different motivations and needs, it's essential to tailor the ad presentation accordingly. Here are some strategies:
Incorporate diverse ad presentation styles to attract different segments of Double 11 ad audiences.
Be flexible with different ad materials to enhance the Double 11 shopping atmosphere and cater to various reasons why customers purchase.
Explore Meta's Ad Creative Center for inspiration.
Integrating Marketing Data with Meta to Enhance Understanding of Consumer Needs and Effectiveness!
In addition to using diverse ad presentations, the quality of data is a crucial aspect to focus on. As indicated in the report, consumer behavior in searching for and purchasing products is continually evolving, with 73% of consumers hoping that brands can understand their needs and expectations. Therefore, the integration of marketing data with Meta becomes particularly important.
Here are two ways to help businesses integrate marketing data with Meta:
Conversion API:
The Conversion API directly connects marketing data from all channels with Meta, significantly improving efficiency.
Event Matching Quality:
Assisting businesses in tracking the likelihood of events matching Meta accounts, thereby increasing conversion rates and reducing acquisition costs.
Recommendations:
a. Combine the Conversion API with Meta Pixels to enhance the information used to improve ad effectiveness.
b. Ensure that events from multiple data sources are not counted repeatedly.
c. Pay attention to the time intervals between short event occurrences and events transmitted through the Conversion API to ensure data update intervals.
Today, cacaFly shared many advertising strategies that can be deployed during Double 11. Regardless of which strategy you choose, the key is to provide diverse ad creative, precise ad audience targeting, and integrate marketing data with Meta to enhance ad effectiveness. In this Double 11 shopping season, I hope to assist all business owners in standing out during this fiercely competitive time!
Further Reading:
全年都是节日商机?TikTok 发布 2023 马来西亚銷售档期指南
►︎ Interested in planning holiday marketing campaigns?
►︎ Contact us now! The cacaFly professional consulting team is here to help.
PM: cacaFly Malaysia Facebook
Email: [email protected]
Mobile: 017-7486433
---
cacaFly Malaysia is always at the forefront of digital marketing and committed to being the most reliable partner of our clients, priding ourselves in offering premium services with utmost enthusiasm and professionalism. Specializing in serving brand and performance oriented clients, our one-stop digital marketing services ranges from early research, mid-term advertising, MarTech application and creative production to data analysis and strategy optimization, cacaFly Malaysia has assisted countless brands and online merchant improve their performance and expand their businesses. If you need help with digital marketing strategy, ad placements etc., contact us now! PM us on cacaFly Malaysia Facebook or email us at [email protected]