Double 11 is approaching, and Meta has also introduced a series of new advertising features for Instagram Reels, allowing businesses to better utilize these features to enhance their performance, especially during the shopping festival. Let's now explore the new Instagram Reels advertising features with cacaFly!
New Instagram Reels Advertising Features: Collection Ads, Multi-Destination Reels Carousel Ads, Swipe Left
The new Reels advertising features encompass a range of innovations aimed at improving the performance and attractiveness of advertising creatives. Let's take a closer look at these new features:
1. Collection Ads: User-Friendly Product Exploration
Instagram Reels Collection Ads primarily feature a prominent video or image as the main visual, accompanied by smaller images. Additionally, Collections Ads are currently undergoing testing on Facebook. This series of advertisements allows users to easily browse and explore more information about the products that pique their interest. Therefore, it is recommended that businesses design their flagship products in the form of Collection Ads, especially during the upcoming Singles' Day, to enable users to have a clear and convenient view of their favorite products!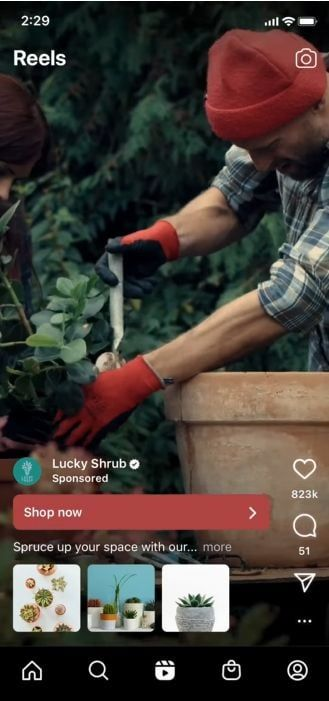 2. Multi-Destination Reels Carousel Ads: Streamlining Multiple Pages Is No Problem
In addition, to provide users with a more convenient shopping experience, Meta officially introduces versatile Reels Carousel Ads. Multi-Destination Reels Carousel Ads allow advertisers to direct users to multiple product pages, making it easier for them to find the desired items and, consequently, boosting sales. This feature is available on Facebook and Instagram Reels for iOS and Android, offering advertisers more choices and opportunities.
3. Swipe Left Function: Transitioning Consumers from Passive to Active
Lastly, many consumers tend to be passive viewers. To encourage them to transition from passive viewers to active shoppers, Meta has introduced the "Swipe left" function. This feature allows the audience to quickly and easily explore and purchase products of interest. When users come across a product they like, all they need to do is swipe left to access the seller's designated webpage and view detailed product information, making the purchasing process more convenient. Therefore, businesses should ensure the design of their brand's website is user-friendly, preventing users from feeling overwhelmed when entering the official website!
Advantage+ Creative Makes Reels Updates Easier
In addition, in this latest update, Meta has introduced a series of Advantage+ features that allow creative automation with just a few clicks, making marketing campaigns more enjoyable. Advantage+ features help advertisers create more engaging, attractive, and impactful ads.
Officially, it has been stated that, compared to other types of videos, Reel ads in a vertical format with sound have seen a 4.8% reduction in cost per action, a 5.1% increase in click-through rates, and a 2.9% boost in conversion rates. This underscores the importance of full-screen sizing to fit the screen and the role of music in Reels. Let's take a look at the updates in Advantage+ Creative:
1. Creative Optimization
Creative optimization features include automatic templates for converting non-9:16 media to 9:16 media, 3D motion, and depth, aspect ratio variance, and image and video enhancement capabilities (including filters for sharpening colors and improving video resolution). These features are available within Advantage+ Creative in the Ads Manager, and Meta will automatically display the optimized version of your advertising material or the original advertising material based on the predicted best results.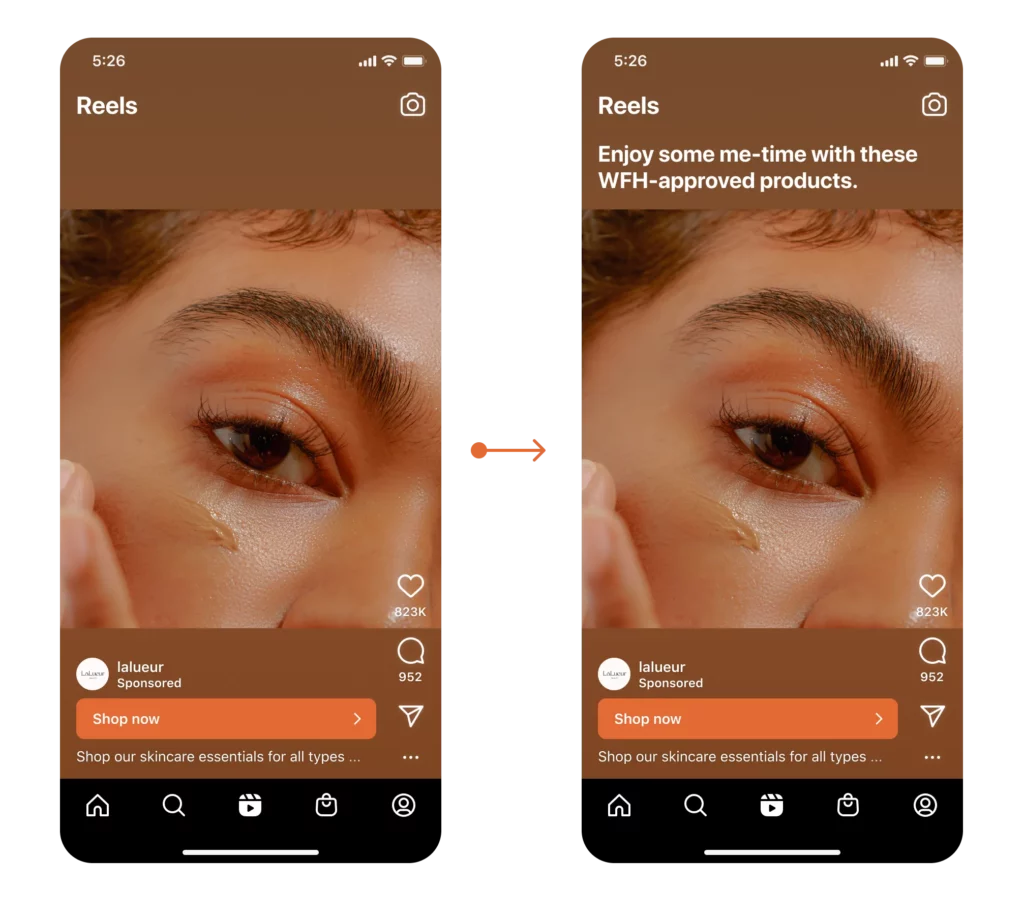 2. Music
Advantage+ also emphasizes the importance of music. When we talk about music here, it's not just about enabling sound but also choosing music, sound effects, or voiceovers that are suitable for the video, making the ad more engaging and entertaining. Studies have shown that ads using music or voiceovers in Reels advertisements are more likely to engage consumers positively with the content. Therefore, it is recommended for businesses to consider adding fun and fitting music to their Reels ad materials to attract a larger audience.
Meta has also created a simplified guide to help everyone gain a better understanding of creative optimization in Reels. You can click here to learn more about creative optimization.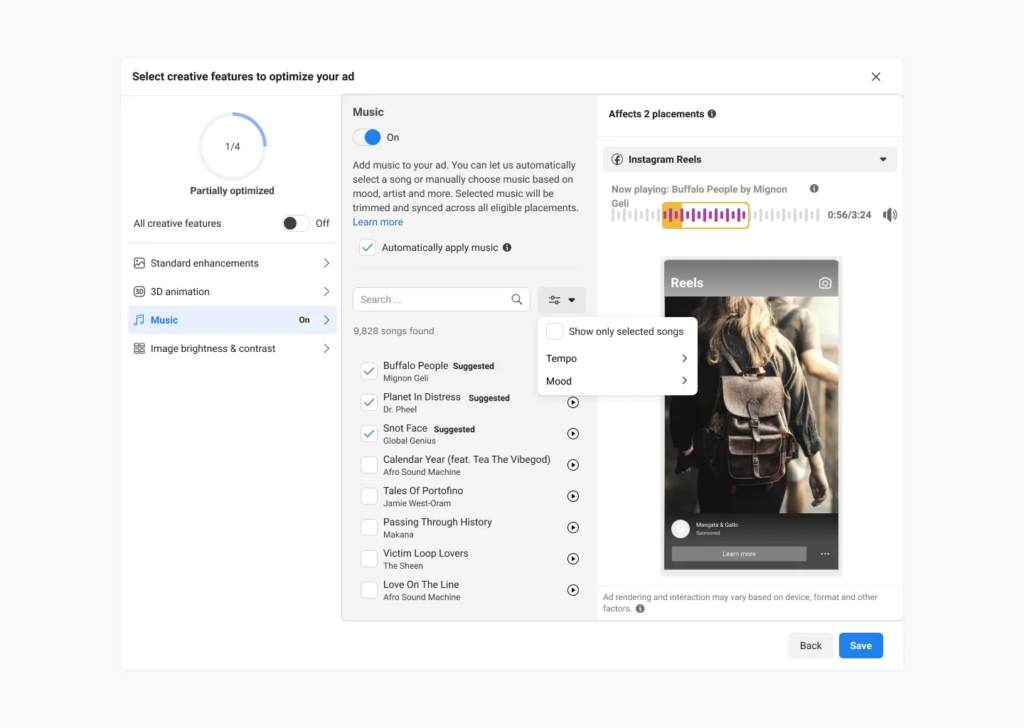 The introduction of these new Reel advertising features primarily aims to meet the demands of the advertising market, enhancing the attractiveness, effectiveness, and brand suitability of ads. Advertisers can utilize these tools to create more engaging and interactive ad content, thereby increasing the success of their advertising campaigns. These features also assist advertisers in better catering to the needs of their diverse brands and advertising objectives, providing a more personalized advertising experience. You can click here and here to read the full article.
Having trouble building your brand and unsure how to do marketing?
Feeling lost in attracting customers and driving traffic to your Instagram account?
Contact us and let the professional consultancy team at cacaFly work with you to create a remarkable new presence!
Email: [email protected]
Mobile: 017-7486433
---
cacaFly Malaysia is always at the forefront of digital marketing and committed to being the most reliable partner of our clients, priding ourselves in offering premium services with utmost enthusiasm and professionalism. Specializing in serving brand and performance oriented clients, our one-stop digital marketing services ranges from early research, mid-term advertising, MarTech application and creative production to data analysis and strategy optimization, cacaFly Malaysia has assisted countless brands and online merchant improve their performance and expand their businesses. If you need help with digital marketing strategy, ad placements etc., contact us now! PM us on cacaFly Malaysia Facebook or email us at [email protected]