With multiple year-end holidays approaching, Meta has released an article about the new features launched for creators on Instagram and Facebook. The aim is to provide new incentive mechanisms within the products to assist creators and brand partners in leveraging the holiday season as a business opportunity, promoting brand content, and achieving peak performance. Let's explore more with cacaFly!
Instagram provides digital gifting features for creators, enhancing creators' income.
Instagram Virtual Gifts
In the realm of live gifting, Meta has expanded the availability of virtual gifting on Instagram to more regions, including Austria, Belgium, Bulgaria, Chile, and others. Virtual gifts on Instagram contribute to creators' earnings and can be perceived as a form of virtual tipping.
This feature opens up broader avenues for creators to generate income. However, it's not accessible to all creators. To qualify, creators must have professional accounts with over 5,000 followers. Through these virtual gifts from fans, creators can strengthen their connections with followers, fostering more interactive experiences between them and their audience.
Therefore, it's recommended that brands pay attention to creators who have activated the gifting feature and consider collaborating with them. Users who gift virtual items to creators tend to have a closer relationship with them, thus increasing the likelihood of purchasing products. Additionally, brands are encouraged to collaborate with creators to design exclusive content or offer exclusive promotions. This approach not only benefits subscribers but also incentivizes non-subscribed fans to join. You can click here for more information on virtual gifting.
Instagram"Holiday Bonus"
Meta has initiated a new holiday bonus exclusively for invited creators in the United States, South Korea, and Japan. Selected creators will undergo testing of this new bonus until the year's end. The core concept involves creators earning income corresponding to the number of Reels plays and photo views observed during the testing phase.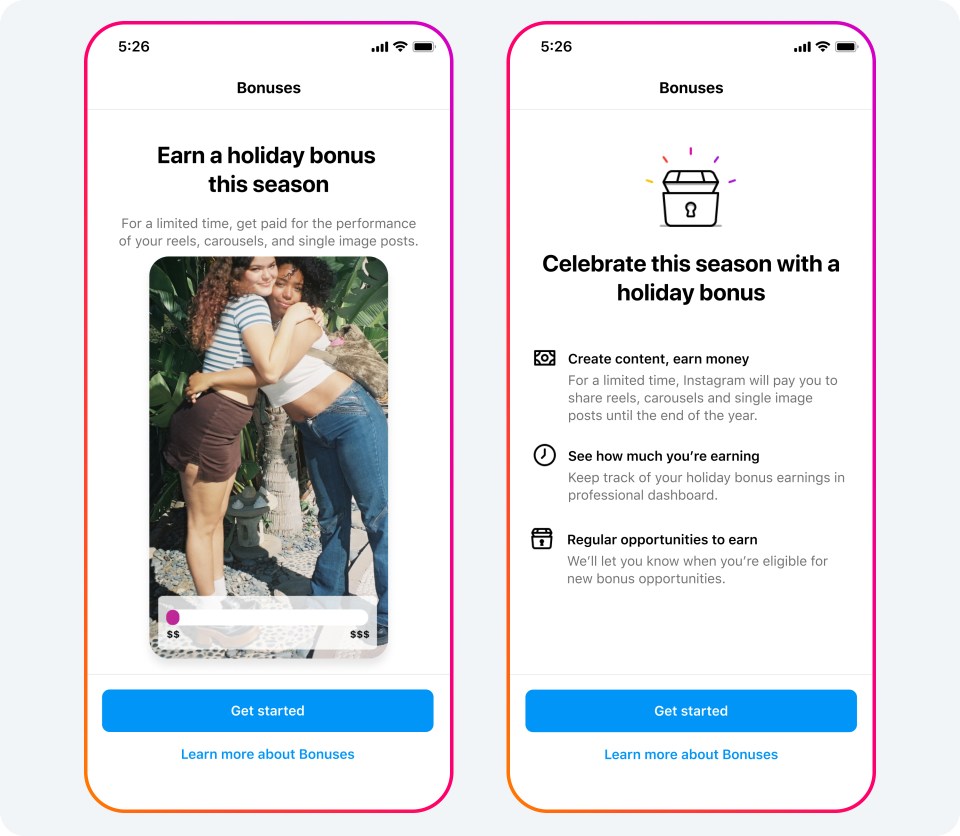 Trial Subscriptions for Creators: Enhancing User-Creator Interaction
Apart from expanding the virtual gifting feature, Instagram had previously introduced the "subscription" feature in several countries. On September 20th of this year, Instagram extended the subscription feature to 35 additional countries, including Malaysia, Taiwan, Japan, Thailand, Indonesia, and more! In addition to the subscription feature on Instagram in various countries, Meta is also on the verge of introducing subscription models for Facebook. Meta's official announcement anticipates that Facebook creators will be able to offer their fans a 30-day free trial subscription.
Subscriptions are crucial for creators. Through free trial subscriptions, creators can offer a variety of content to their audience, thus creating a broader platform for their creations. This innovative subscription model is anticipated to foster a stronger community, enhance audience loyalty, and consequently drive sustained development and revenue for creators' content.
It's advisable for brands to closely monitor this evolution. This change not only presents more opportunities for collaborations with creators but also serves as a fresh means for brands to engage audiences on the Instagram platform. Brands can collaborate with creators who offer subscription services, providing exclusive content or special offers to attract potential customers. Additionally, they can consider conducting brand promotions and collaborative events on these platforms to deepen interaction with audiences and expand product influence.
Facilitating Creator Participation in Ads
Lastly, Meta has introduced new guidelines to assist creators in optimizing potential advertising partnerships. Nowadays, many creators collaborate with brands to create branded content and partnered advertisements on Facebook and Instagram, earning income in the process. When creators craft Instagram stories, they now have the option to select "Make your story eligible for partnership ads," which also displays relevant eligibility criteria. This ensures that creators maximize the advertising potential of their content and mitigate potential issues that might restrict their earnings.
With the recent feature updates, Meta has provided creators with more methods to expand their influence and income. The company's support for creators isn't just about resource provision; it's about establishing a more robust platform and collaboration opportunities for them. Simultaneously, these updates create new avenues for brand promotion.
Overall, Meta's recent array of new features and support measures for creators positively impact branding and marketing strategies. The expansion of digital gifting, the introduction of new subscription models, and the optimized guidelines for ad partnerships all contribute to offering more opportunities for brand collaborations, content creation, and marketing initiatives. You can click here to read the full article.
Having trouble building your brand and unsure how to do marketing?
Feeling lost in attracting customers and driving traffic to your Instagram account?
Contact us and let the professional consultancy team at cacaFly work with you to create a remarkable new presence!
Email: [email protected]
Mobile: 017-7486433
---
cacaFly Malaysia is always at the forefront of digital marketing and committed to being the most reliable partner of our clients, priding ourselves in offering premium services with utmost enthusiasm and professionalism. Specializing in serving brand and performance oriented clients, our one-stop digital marketing services ranges from early research, mid-term advertising, MarTech application and creative production to data analysis and strategy optimization, cacaFly Malaysia has assisted countless brands and online merchant improve their performance and expand their businesses. If you need help with digital marketing strategy, ad placements etc., contact us now! PM us on cacaFly Malaysia Facebook or email us at [email protected]